Medical Device, Medical Monitoring, Health Diagnostics, Healthcare Technology
Research, manufacture, and sale of coagulation IVD products for hospitals and self-testing.
Welcome to CoaguSense Inc., where our commitment to improving the quality of life for individuals with coagulation disorders drives everything we do.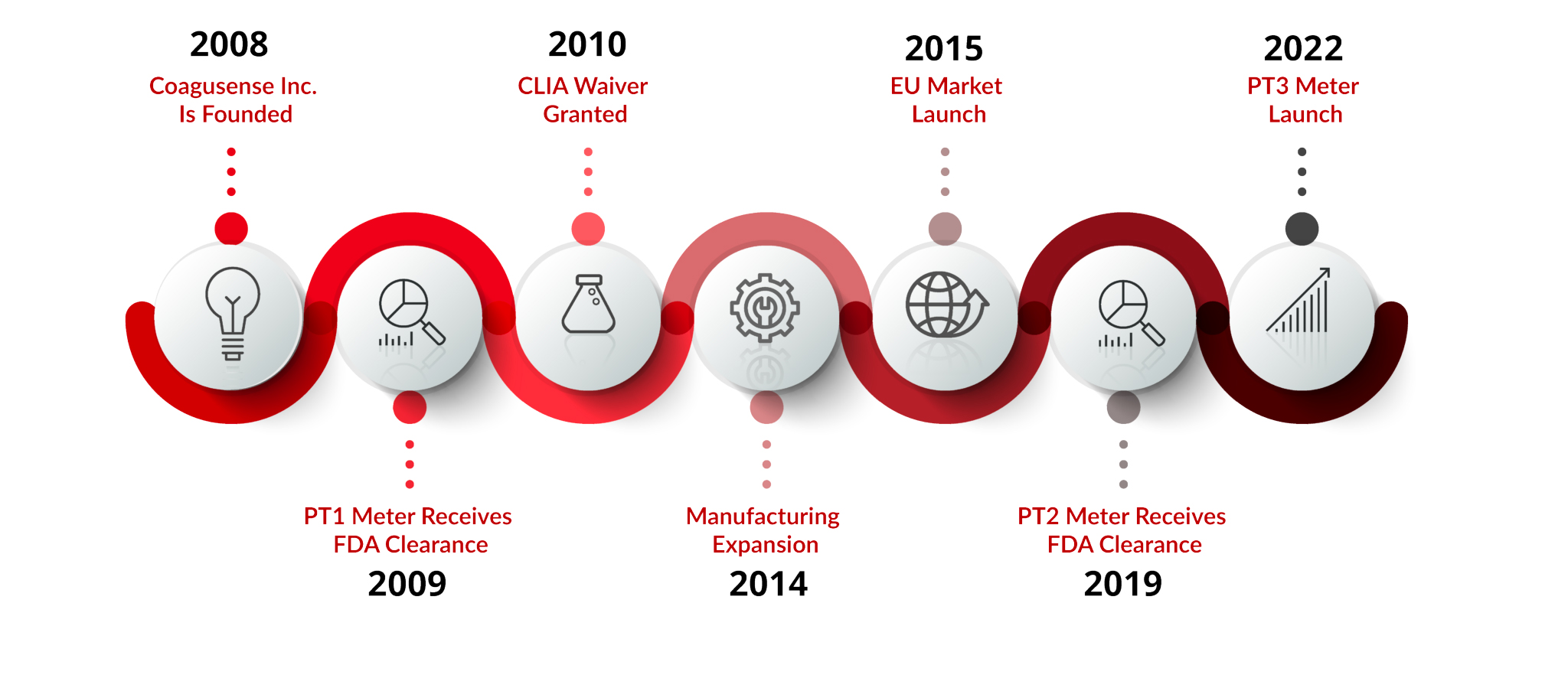 Enable people with coagulation disorders to live a healthier life
Since our inception in 2008, CoaguSense Inc. has been on an unwavering journey to revolutionize coagulation disorder management. We are proud to have introduced our pioneering PT/INR meter, the Coag-Sense® PT1 Meter, which not only received FDA clearance but also secured a CLIA-waiver in 2010, reaffirming our commitment to accessibility and convenience for both patients and healthcare professionals alike. In 2014, our dedication to excellence led to a significant expansion in manufacturing capabilities, allowing us to meet the growing demand for our innovative solutions. Building upon this success, we embarked on an exciting international venture in 2015 by introducing our professional-grade product to the European market, further cementing our global footprint in the coagulation diagnostics industry.
Empower our patients with actionable information at point of care
In 2019, our new and improved PT/INR meter, the Coag-Sense® PT2 PT/INR Monitoring System received FDA clearance. This meter is twice as accurate, twice as precise, and less expensive when compared to the market leader. Measurement of the patient sample uses our patented direct clot technology without the need for algorithms or look-up tables. In less than one minute, the result reported is actual prothrombin time! A small blood sample of only 10 µl is required for superb, reliable results. Because the meter is convenient to use, portable, and offers multiple forms of connectivity, the Coag-Sense® PT2 System can be used from the clinic to the home for seamless anticoagulation medicine management. In 2022, we were cleared by the FDA for the Coag-Sense® Self-Care Monitoring System for use in patient self-testing. With this meter, a patient can utilize a simplified platform that provides the same robust results as the PT2 for successful anticoagulation medication management.
CoaguSense, Inc. is physically located in an industrial park in Fremont, CA near several other biotech, medical device, and technology start-ups. With less than 100 employees, we have a dedicated service-oriented staff. We answer the phone and help you improve your testing technique and troubleshoot your technical issues.
Headquarters
48389 Fremont Blvd., STE 106
Fremont, CA 94538, US
R&D
48377 Fremont Blvd., STE 111
Fremont, CA 94538, US
Manufacturing
48377 Fremont Blvd., STE 113
Fremont, CA 94538, US